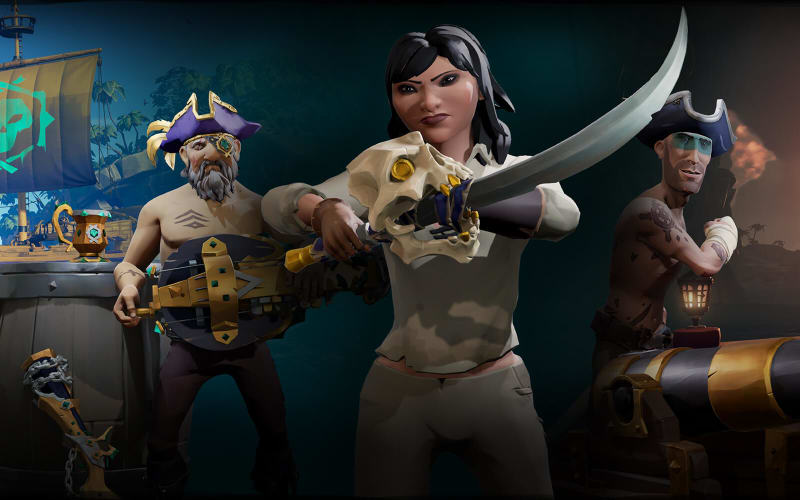 It's been one year since Sea of Thieves was released!
This update includes some new cosmetic items for many players, a new Skeleton Fort in The Devil's Roar, new Mercenary Voyages, combat changes and some quality of life improvements.
The full anniversary update is coming at a later time.
Update Summary
View the official release notes for 1.4.5 here.
Four new mercenary voyages, including another Reaper's Mark challenge and a Gilded Athena voyage.
New anniversary items for all players
New Pirate Legend items for all players who reached Pirate Legend before March 20th 2019.
Molten Sands Fortress
A new Skeleton Fort has appeared in The Devil's Roar!
Face off against skeleton waves while dodging volcanic rocks and luring them onto geysers before raiding the vault for Ashen Rewards!
Mercenary Voyages
New voyages, buy from Duke in any tavern:
Reaper's Run of Shipwreck Bay - all players are sent to the same island. Raise your Reaper's Mark Flag to complete the Legendary commendation. Rewards the Shipwreck Reaper Sail.
Mercenary Voyage of The Devil's Roar - significantly higher rewards.
Mercenary Voyage of the Shores of Plenty
The Gilded Mercenary Voyage of Legends. This is an Athena's Fortune voyage with many Legendary Chests at the end. You can only buy one.
Anniversary items
To celebrate one year of Sea of Thieves, all players can buy these items for a limited time:
Item pages and screenshots coming soon.
All players (unsure about this) will automatically receive:
Captain Bones' Original Pirate Cutlass. There is a delay in this item being available.
All players who reached Pirate Legend before March 20th 2019 will automatically receive new Pirate Legend items:
Note: Players who reached Pirate Legend recently may receive the items slightly late, on March 22nd.
Mercenary Items
You can now buy most Mercenary items set from all outposts. Previously, these items were only available by a rare Xbox Live promotion.
The Mercenary Blunderbuss and Eye of Reach are unlocked after completing new Mercenary Voyager commendations.
Combat changes
The weapon switching changes that were added to the game last month have been improved further.
After sprinting, your gun will now be ready to fire immediately. You will still have a delay when switching between guns.
You may now switch weapons/items at any point during light sword attacks. You will still have to wait if you are doing a heavy sword attack / lunge.
Other changes
Inactive Player Detection - "Improved detection and disconnection of inactive players wherever they are in the world"
Xbox: Keyboard and mouse support
Xbox: Chatpad support
Notable fixes
You can now change/weapon item properly after hitting an object with your sword
Voice chat should now perform better when many players talk at once.
---
posted

a year ago

20 Mar 2019 14:29 (UTC)